After a couple of days in Gothenburg we sailed back to Grötö. The weather was really nice and there were quite a lot of boats around. The deep water berths were occupied and we had to moore alongside another sailing yacht. Saturday morning we left in a north-easterly wind. We made good progress north and only had to make two tacks before we reached Albrechtsunds canal and Marstrand. 14 nautical miles and average speed 5,3 knots. When we sailed down to Gothenburg we only saw two or three boats but here at Marstrand there were at least twenty sailing boats moored at the marina. Mooring fee was only 100 SEK including electricity, washing machine and tumbler, great. It looked like nobody had heard of covid-19, the bars and restaurants were crowded.
We left Marstrand at 09.30 on Sunday morning. Strong easterly winds and with only the mainsail we had nice sailing north.
Through Kyrkesund we had to start the engine but as soon as we left the narrow parts behind we could continued under sail only.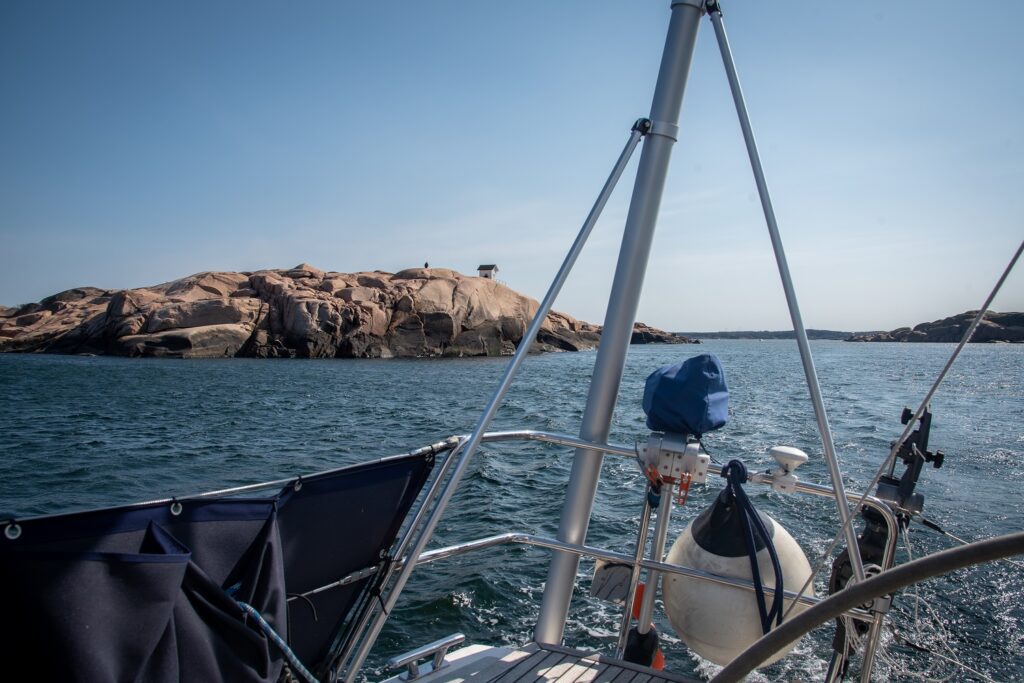 Our destination was Bohus Malmön which we reached after 32 miles and 6 hours, average speed 5,3 knots. The marina is very exposed to easterly winds so we decided to moore in the fishing harbour. A really nice and well protected harbour.
Water and electricity was available, mooring fee was 130 SEK.
There are several nice hiking tracks on Bohus Malmön and we spent two days doing boat jobs and hiking. This island is completely hacked to pieces and the granite quarrys has left scars all over the island.
On Tuesday the 20th we motored the 4,5 miles to Smögen and Rössy Kapell to take measurements for a bimini and in the afternoon we continued north through Soten canal and sailed the last 14 miles to Hamburgsund. The wind was from behind and gave us a chance to try out our new boom brake by gybing back and force a couple of times. It still need some adjusting but seems to work well.
The trip to Gothenburg and back was really nice and gave a good hint of warmer days to come.